With Coromatic, E.ON is ready to face the continued digitization
E.ON's acquisition of the Swedish company Coromatic has now been completed. E.ON thus gets access to cutting-edge expertise for the Nordic region's growing digitization.
As of today, Coromatic is a subsidiary of the E.ON Group. Coromatic is the Nordic region's leading provider of critical infrastructure and helps customers ensure data communication and power supply to critical installations by providing services and solutions that deliver emergency power and uninterrupted power supply.
The large growth of data centers, in the wake of the increasingly digitized society, makes the demands on reliability and security of supply increasingly important. With the acquisition of Coromatic, E.ON is ready to meet these requirements.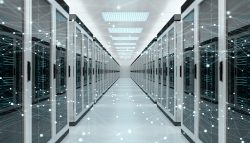 -It feels great that the acquisition now is finalized ! Coromatic has an exciting growth plan, and I see promising opportunities for us to jointly create new and innovative solutions for customers within various industries, real estate and data centers, says Marc Hoffmann, CEO E.ON Sweden.
The Nordic region is regarded as an attractive region for establishing data centers with relatively low energy costs and political stability. A future with artificial intelligence, smart buildings and the internet of things means that the need for electricity and uninterrupted power supply will only increase.
-Expanding our solutions footprint and capabilities for critical infrastructure customers, especially data center, is a positive step for the growth of E.ON B2B solutions across Europe. I'm delighted to have Coromatic as part of the E.ON portfolio, says Anthony Ainsworth, CEO E.ON Business Solutions.
Coromatic continues to be an independent subsidiary and will run its business under its own brand and with current management.
About Coromatic:
The company has more than 5,000 customers in the Nordic region, among them 60 percent of the Nordic's 100 largest companies, in a large number of industries such as data centers, healthcare, public sector, transport, industry, telecom, finance and retail. The company's head office is located in Stockholm and Coromatic has approximately 500 employees.