Press release: Coromatic has signed an agreement to acquire growing cooling technique specialist – Kristianstads Kylservice
Coromatic, part of the E.ON group, and the leading provider of mission critical infrastructure for secure power and data communication has signed an agreement to acquire the Swedish company, Kristianstads Kylservice AB with an annual turnover of approximately 80 million SEK.
The acquisition of Kristianstads Kylservice strengthens the Coromatic offer in cooling, heating and heat recycling, and adds important competences within total solutions and tech design.
Kristianstads Kylservice, with subsidiaries, Karlskrona Kylservice and KylEl i Kristianstad are active in market segments for cooling, heating, heat recycling, electrical installations, solar power and charging stations, primarily in Skåne, Blekinge, Småland and Halland. The company was founded in 1957 by Knut Levin, and has 50 employees delivering total solutions, service, and maintenance, mainly to the professional market.
– We see continued expansion opportunities in the combination of our business areas. Coromatic already has a strong customer base and market position, and with the products and services from Kristianstads Kylservice in our portfolio we see great opportunities for future expansion, continues Peter Neuberg, CEO Coromatic.
Tobias Levin, CEO Kristianstads Kylservice, sees Coromatic and E.ON as solid industrial owners, with abilities to provide the company with better opportunities for achieving its ambitions.
– We have known each other for many years and are convinced the acquisition will help us reach the next step in our development. We get a financially strong owner, for future growth, and together with Coromatic we will be able to offer our customers and employees continuity in how we run our business. Our employees are our most important asset, and the family is confident in our choice of selling to Coromatic, says Tobias Levin.
Kristianstads Kylservice will become a Coromatic subsidiary. The business transaction is planned to be finalized during the month of May.
For further information, please contact:
Peter Neuberg, CEO Coromatic
peter.neuberg@coromatic.se
+46 73 432 51 18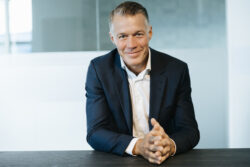 Tobias Levin, CEO Kristianstads Kylservice
tobias@kristianstadkylservice.com
+46 70 462 11 01