Peter Neuberg appointed new CEO of Coromatic
Experienced leader from the construction industry will make the Nordic infrastructure company grow in more markets
Coromatic, the leading supplier of mission-critical infrastructure for secure power and data communication, has hired Peter Neuberg as the new CEO for Coromatic and MD for the Swedish operations. Peter, who most recently held a position as CEO at SEHED Byggmästargruppen, has more than 20 years of experience in the construction industry with leading roles within the Skanska Group and as CEO of JM Entreprenad.
– Peter's experience matches our needs perfectly with the market position we have right now, with increasing demand for our solutions for backup power and data centers. We now need to grow our operations to cope with demand and, at the same time, work very closely with our customers and the market for continued growth. Here, Peter has the leadership required to take us further on that journey, comments Anette Blücher Deputy CEO of Coromatic and CEO of E.ON Infrastruktur.
Coromatic, which focuses on designing, building and operating mission-critical infrastructures such as data centers and backup power solutions, is currently located in Sweden, Norway and Denmark. Going forward, the ambition is to grow the company further into more markets, a task assigned to the new CEO.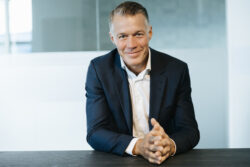 – I am, of course, very honoured to be able to take on this assignment. Coromatic is in an incredibly exciting industry with an offer central to society's rapid digitization. I also see significant synergies regarding the development of the construction industry in terms of cooperation, working methods and inclusion of employees. I will bring experiences related to this with me in my new role, comments Peter Neuberg.
Peter Neuberg starts as CEO of Coromatic on October 1st.
For more information, please contact:
Anette Blücher, Director Energy Infrastructure Solutions, Nordic
+46 70 3006125
anette.blucher1@eon.com
 About Coromatic
Coromatic secures the availability of power and data communications for mission-critical functions. We are here 24/7 for our customers to ensure high availability and productivity in facilities, save lives by securing operations without disruptions, and protect the environment by optimizing energy consumption. Customers include the financial sector, IT providers, telecom operators, hospitals, national defence and many other highly connected organizations.
Coromatic provides advisory, operations and maintenance services. We design, build and operate energy-efficient technical infrastructure. Coromatic has more than 700 employees in the Nordics and has delivered solutions and services to more than 5000 companies in the Nordics. Coromatic is part of the E.ON Group.