Coromatic secures sustainable power supply in pilot project with E.ON in Sweden
Today, Sweden's first local energy system will be inaugurated in the village of Simris in southern Sweden by Jennie Nilsson, Chairman of the Government's Committee on Industry and Trade. The energy system consists of 100-percent renewable and locally produced electricity. The project, run by energy company E.ON, with Coromatic as one of the partners, has consisted of planning, building, installing and securing the operation of the 140 households in the village using solar and wind power, without access to the national grid.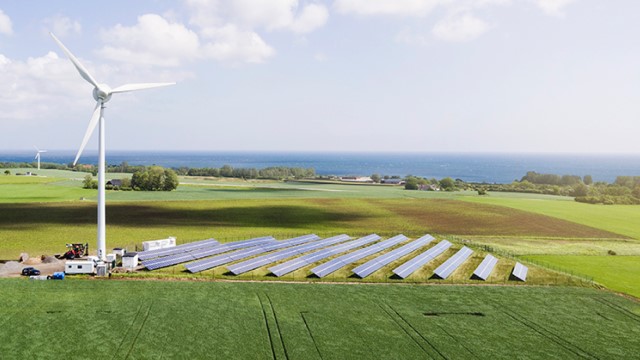 The aim of the project is to find better ways to utilize renewable energy sources while at the same time using energy smarter, without affecting the daily lives of the customers connected to the system. Furthermore, the ambition is to see how smaller geographic areas can manage their energy supply on their own. The project in Simris is one of six spearhead projects in the major EU Interflex project, which aims to identify more flexible, sustainable and local energy systems.
"The need for energy is greater today than ever before, and it will increase exponentially as digitization continues. It is crucial that we can identify new and sustainable solutions to secure the power supply. With this in mind, the project in Simris is very important and something that we are proud to be a part of," says Thomas Wunger, Head of Data Center Solutions at Coromatic.
With a small grid, and power generation that varies with solar radiation and wind, it is essential that other equipment is in place to secure uninterruptible power supply. To ensure this, Coromatic has dimensioned and installed an emergency power solution that will start automatically as needed. The emergency power solution is run on HVO, a renewable fuel produced using slaughterhouse waste.
"Being entirely dependent on renewable energy sources, such as solar and wind, makes special demands on the electricity grid and associated infrastructure. With Coromatic, we have identified a sustainable emergency power solution that ensures that we can always guarantee the right voltage in the networks," says Staffan Sjölander, Project Manager at E.ON.
For more information, contact
Thomas Wunger, Head of Data Center Solutions, Coromatic
Tel: +46 73 317 38 02
thomas.wunger@coromatic.se
About Coromatic
Coromatic is the leading provider of critical facility solutions. Coromatic safeguards availability of mission-critical power and data communications. Its comprehensive customer proposition covers everything from advisory and design to integration, maintenance and operations of critical facilities. Clients are data centers, hospitals, industries, public organizations and headquarters.
Coromatic has more than 530 employees in the Nordics. The company has delivered its solutions to companies in more than 50 countries across the globe. EQT and Coromatic's employees own Coromatic.
 Visit us on www.coromatic.com.