Coromatic has supplied Climaventa's water cooling units to Hyvinkää Hospital
PROJECT
Hyvinkää City Hospital's new H-building is a joint project of the Hyvinkää City and the Helsinki & Uudenmaa health care district in Finland. The building includes wards, a children's department, psychiatric department, and rehabilitation services. The hospital has an emergency room that produces round-the-clock health center emergency services.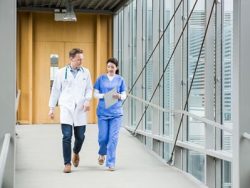 CHALLENGE
The emergency clinic is visited by more than 50,000 patients annually the internal comfort of building is therefore important. The air conditioning system in healthcare applications must grant well-being of the patients, while meeting the needs of the processes related to medical activities (operating rooms), and patient files (data centers).
SOLUTION
When it came time to choose the HVAC system, Climaveneta water cooled, high efficiency chillers were chosen. Specifically 1 FOCS-W/S 1502 and 1 i-FX-W (1+i)/S 1752 have been selected for a total cooling capacity of 1005 kW, and supplied with the silent version to provide acoustic comfort to the patients. The i-FX (1+i) range of chillers is specifically designed to operate at very high levels of efficiency at both full and partial loads. In addition to the chillers, 3 ABU close control units were installed in the hospital's data center.
Coromatic was also selected through public procurement as a backup power system supplier. The Diesel Generator will secure power distribution for the new building and it has been pre-assembled at Coromatic's Östesund plant in Sweden.