Coromatic delivers emergency power to new hospital
The new hospital in Stavanger has signed a contract with Coromatic for delivery of emergency power as a protection against power outage. The value of the contract is est. NOK 22 Mill.
Coromatic will deliver 3 generator sets, and each one has the capacity of delivering 2MW and a 22kV high voltage switch board to secure the supply of 22kV to the hospital, in case of a power outage.
– Emergency power is vital for safe and secure operations of the new hospital, and with the new contract we secure enough backup power to supply the 100.000 m² building. With this solution, the hospital is secured even in the event of a power failure, says Kari Gro Johanson, Project Director in SUS2023.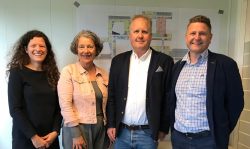 The hospital project has estimated that the power requirement is between 2,3 MW –  3,9 MW. When the second phase of the building project starts, the requirement for emergency power is up to 6,8 MW.
-We are delivering a solution consisting of three generator sets. Furthermore, we have provided enough room to fit two additional generator sets.   This is an exciting contract that contributes to secure and continuous power supply even if a power outage occurs, says Leif Lippestad, Country Manager Norway at Coromatic.
Coromatic will also deliver a high voltage grid for emergency power which runs independently of the high voltage grid  for regular power, with all the necessary components. This makes it possible to test the emergency power supply without any disturbance to the regular power supply.
For additional information, please contact:
Coromatic, Leif Lippestad, Country Manager, Phone: (47) 91136258,
Email: leif.lippestad@coromatic.no
SUS2023, Kari Gro Johanson, Project Director, Phone: (47) 91 39 22 84,
Email:  kari.gro.johanson@sus.no