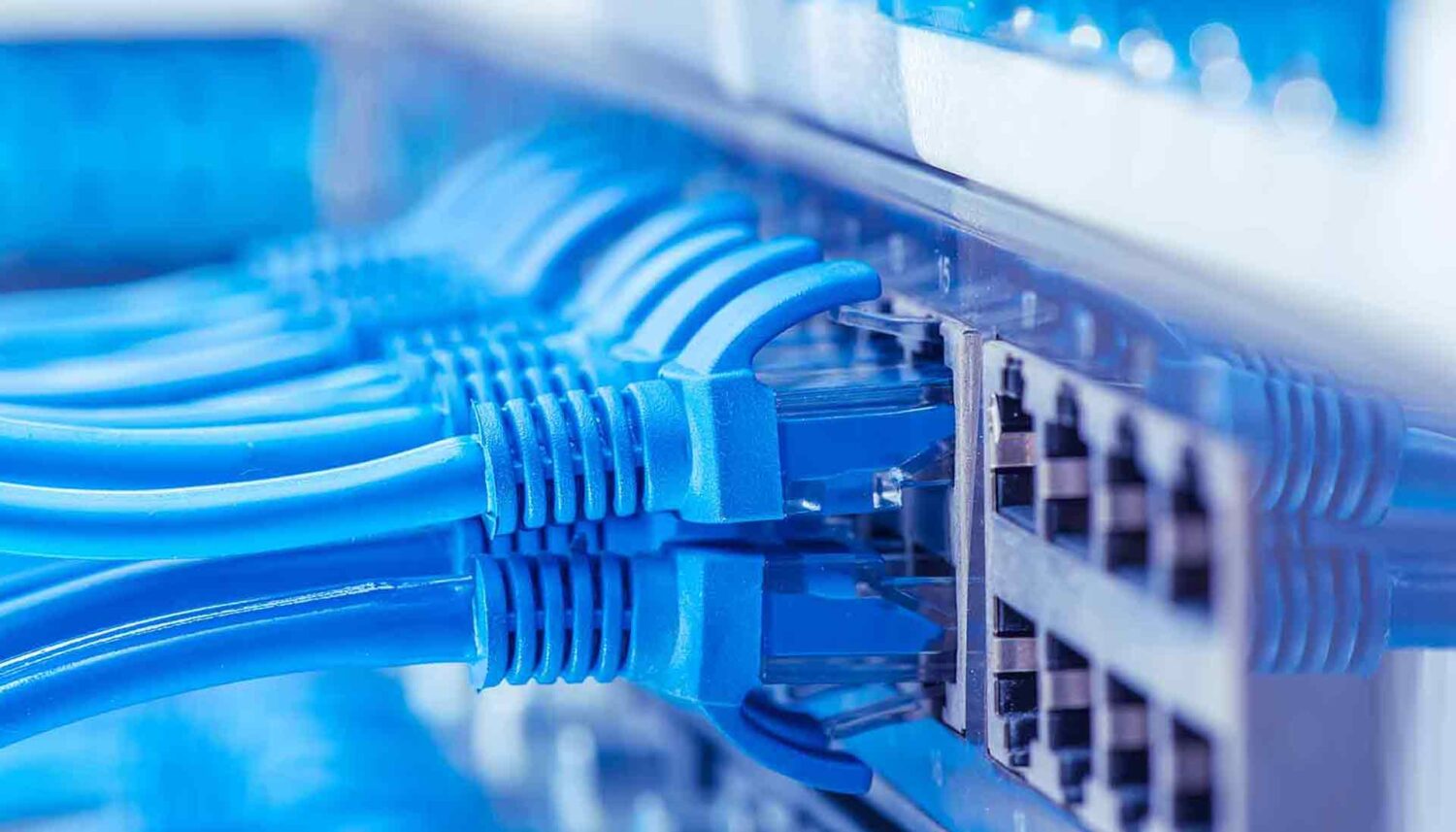 Sub-standard data networks reduce business performance
More data is transmitted than ever before – data networks are more important than ever
Today, the correct and well-dimensioned installation of computer networks is more important than ever before. We are sending unprecedented amounts of data, and Coromatic perform more computer network installations than ever. Our data centres are growing explosively, and everything has to be faster. Demands on property networks and distribution networks are constantly increasing, and the physical cable now transports more traffic and at higher speeds than we previously thought possible.
The physical cable is the basis for all data traffic
Although the opposite was predicted, the use of the physical cable is growing immensely with increased capacity requirements: WiFi is not enough. At the same time the data centre environment is growing, and in terms of design, we are seeing an increase in modular, scalable and flexible fibre solutions that are able to handle higher bandwidths. The intelligence of the property network is increasing, and the development of PoE (Power over Ethernet) is driving further use of the physical network cable.
As a consequence of the demand for bandwidth, data networks are becoming business-critical
The fixed networks have become business-critical, as bandwidth and function affect businesses' abilities to deliver, and thus the companies' competitiveness. Amounts of cable are increasing sharply, and so are the requirements for ducting and its design, because this impacts heating, cooling and energy consumption. In turn, this increase affects the structure and order of cable environments, as failure to ensure orderly cable arrangements can have major negative consequences in a data centre.
WiFi solutions for constant connection and full freedom
WiFi, the wireless network, has made the "Internet of Things" possible as part of our everyday life. We take the ability to connect our devices to wireless networks wherever we are for granted. Cloud services, apps, social networks, chats, games, streaming and video calls are just some of the features that require a stable wireless network.
More and more companies are opting out of personal workplaces in favour of activity-based solutions, and the number of connected devices such as computers, tablets and mobile phones is increasing sharply. The amount of data is increasing at an even faster rate, which creates an increased load on both the network and access points, a load which is expected to increase further in the future.
Poor wireless networks affect the entire business
The increased load results in disruptions when existing access points can no longer handle the large amount of data that wants to pass through. Annoyance, a lack of security in an overloaded network, reduced work paces and impacted morale are just some of the negative effects a sub-standard wireless network has on a business.
AV solutions for conference rooms, the most important office space
Meetings are a big part of our everyday lives, and conference rooms are frequently used for both internal and external meetings, where modern AV solutions simplify the meetings considerably. Today, being able to share documents, give presentations, hear and be seen in a high-quality and simple way during the meeting is an expectation that is rarely met when sub-standard technology creates challenges.
More and more connected offices have high demands for AV equipment
People are in constant motion and levels of stress are increasing, which places higher demands on effective meetings with document sharing, video conferencing and various types of presentations. In terms of AV equipment, a conference room's technical equipment must therefore work for all participants – always.

AV technology that does not work creates frustration and interrupted meetings
Distracting technology with lousy sound, poor image quality and problems with document sharing creates inefficiency, frustration and, in the worst case, an interrupted meeting. Having poor control of important tools in daily operations also gives external visitors an amateur-like impression.
Office Desk Solutions make it possible to work where you want
Fixed or activity-based workplace?
Regardless of the answer, employees need technical needs to be met regardless of where they choose to perform their work. The desire to design premises in a smart and space-efficient way is increasing, and the number of fixed workplaces is dwindling. At the same time, mobility among staff is growing, which places completely new demands on offices' technical equipment.
The trend is towards activity-based workplaces
The number of personal workplaces is decreasing, and the number of offices with activity-based workplaces is increasing rapidly. There is a desire to create space for spontaneous and creative meetings, rooms for quiet conversation, and lounges that inspire people with their inviting atmospheres. Through all this, the technical conditions must be in place, regardless of where in the office environment you choose to position yourself.
Flexible working environments place high demands on power and data networks
The desire to have functional and flexible work environments places new demands on, above all, electricity and networks. People want smart, stylish and concealed solutions that meet all their needs, regardless of where they are in the room. Achieving this on one's own, without relevant experience or skill, often creates a less successful work environment with poor technical solutions.
Our recommendation is to analyse your existing data network environment
The recommendation is to let Coromatic analyse your current environment as soon as possible to get an understanding of future needs. Based on the analysis, a proposed future-proof solution will be presented in which we ensure that upcoming needs for cabling are met. Among other things, Coromatic help our customers design a well-dimensioned property network, structure and order their data centre, and create optimised rack layouts and high-quality products.