Coromatic manages site operations for Fortlax
Coromatic, the leading Nordic provider of Critical Facilities Solutions, is taking responsibility for site operations of Fortlax's data centers. Fortlax, with its data centers digitally located at the center of the world and physically located in Piteå, is the leading data center player in northern Sweden and offers both cloud services and traditional colocation. The company is implementing a new change in strategy whereby it will devote all of its energy to providing its customers with various services at the data center, while responsibility for the physical infrastructure, such as cooling, power supply, emergency power and UPS units, will be managed by Coromatic 24/7.
"We are experiencing strong growth, and are an interesting alternative for both Swedish and international companies that need a stable and secure partner to manage both their IT infrastructure and cloud services, particularly in the automotive industry where BMW has worked with us since 2016," says Jasenko Masic, COO and partner at Fortlax. "As part of our continuing expansion we have chosen Coromatic as our strategic partner to operate all of our data centers."
Coromatic, which is also responsible for the design and construction of the latest Fortlax data center, F3, will handle the site management as well as on-site services for the data centers for the coming years. Enabling Fortlax access to the all of the competence available within Coromatic.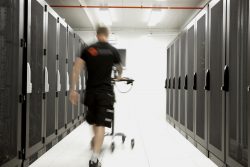 "Customer demands for accessibility and security are higher today than ever before and we are determined to lead this development. At the same time, our core business is to offer cutting-edge expertise in IT infrastructure and cloud services, and not data center management. Accordingly, it is positive to have such an experienced and knowledgeable partner as Coromatic in place with the responsibility for our business-critical infrastructure."
Coromatic's service for managing operations of data centers and other mission-critical facilities is based on international standards and best practices. In the case of Fortlax, the management of the facilities include incident response, performance reporting, life-cycle cost management and more.
"The decision by Fortlax to extend beyond a construction contract and entrust us with the site management of their facilities is of course an honor and confirms our specialist knowledge in this field," says Thomas Wunger, Head of Data Center Solutions at Coromatic. The data center industry is undergoing rapid growth in the Nordic region, which makes it a complex task for our customers to meet their end customers' high demands on accessibility and security while developing the rest of the business. We are therefore very much looking forward to a long-term collaboration with Fortlax in supporting their continued expansion."
For more information, contact
Thomas Wunger, Head of Data Center Solutions, Coromatic
Tel: +46 73 317 38 02
Thomas.wunger@coromatic.se
Jasenko Masic, COO of Fortlax
Tel: +46 703 90 36 12
jasenko.masic@fortlax.se
About Fortlax
Fortlax provides great services for computer operations. The company was founded in 2004 and today Fortlax has about 400 Swedish and global customers of all sizes. Something that is unique with our company is that we offer solutions to customers with high demands on security, as well as technology. Fortlax uses one hundred percent recyclable energy from hydro and wind power in its three plants F1, F2 and F3. Fortlax is located in the county of Norrbotten, Piteå. For more information, please visit www.fortlax.se.
About Coromatic
Coromatic is the leading provider of critical facility solutions. Coromatic safeguards availability of mission-critical power and data communications. Its comprehensive customer proposition covers everything from advisory and design to integration, maintenance and operations of critical facilities. Clients are data centers, hospitals, industries, public organizations and headquarters.
Coromatic has more than 500 employees in the Nordics. The company has delivered its solutions to companies in more than 50 countries across the globe. EQT and Coromatic's employees own Coromatic.